Shanghai Science Communication Forum Told the Stories behind Chang'e-5 Probe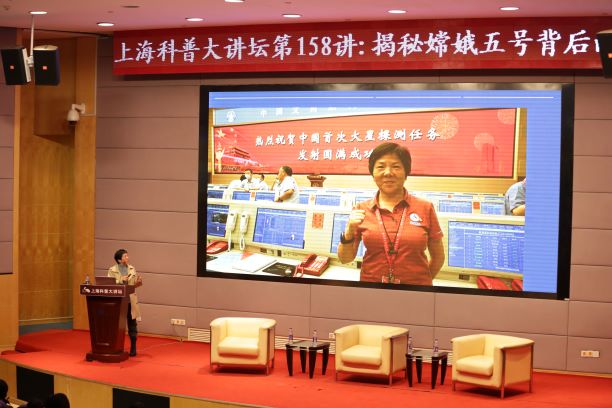 As China's most complex aerospace project involving a wide range of technologies, Chang'e-5 probe has received widespread public attention and heated discussions. On December 19, 2020, the 158th session of Shanghai Science Communication Forum invited Zhang Yuhua, the head of the lunar exploration project of Shanghai Academy of Spaceflight Technology and deputy chief commander of the Chang'e 5 probe, to tell the stories behind the Chang'e 5 probe.
Zhang Yuhua shared the stories of scientific research on the Chang'e-5 probe with the audiences. She introduced that the 8.2-ton Chang'e-5 probe went through 11 phases from being launched into orbit to recovery of reentry capsule, which took about 23 days. The successful accomplishment of the mission was impossible without the close cooperation of two teams, namely the "lunar sample collection team" composed of lander and ascender, and the "returning team" composed of orbiter and returner. In order to bring home again the lunar samples for mankind in 44 years, researchers had been devoted to research for 10 years.