Shanghai Natural History Museum Held the First "Night at the Museum" Activity in 2021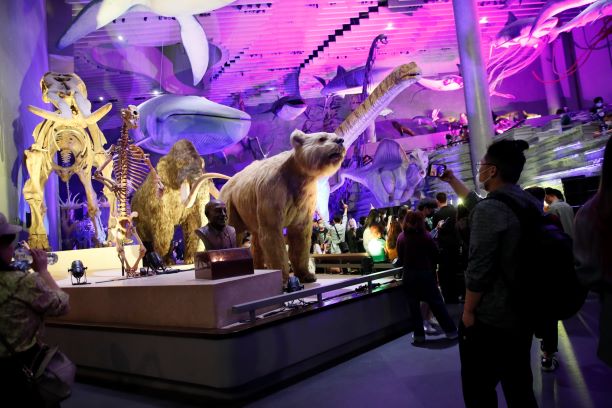 In the evening of International Museum Day on May 18, the "Night at the Museum" activity in 2021 of Shanghai Natural History Museum (a branch of SSTM) themed "When Curiosity Meets Specimens" had a grand opening. It was the first ground-breaking attempt in China to integrate electronic music scenes into Shanghai Natural History Museum. Under the premise of ensuring safety and security and implementing pandemic prevention and control measure on a regular basis, 1,500 participants in costumes or accessories with elements of the nature danced with the cute lions that "came back to life" with curiosity, and interacted with specimens amidst electronic music, visited the original exhibition of the museum under the guidance of scientific researchers, and thought about the answers from all walks of life to the question of "how to make the specimens in Shanghai Natural History Museum come back to life".
This year, the museum has publicly recruited three types of public welfare partners in "Evolution of Nature", "Natural Craftsman" and "Natural Science Education +" to jointly create a high-quality popular science carnival for the audience and develop a replicable and propagable operation model for the "Night at the Museum" activity featuring cooperation between the museum and the society. Against the background of the vigorous efforts to develop the evening economy in Shanghai, the museum created a nightlife festival atmosphere through the "Wonderful Night at the Museum" to provide more choices for cultural consumption. In the next 6 to 8 months, the museum will hold 3 "Wonderful Night at the Museum" public welfare activities, so as to bring more people to the museum and learn about the nature, science and technology, and improve scientific and cultural literacy.