Shanghai Science Communication Forum Launched the "Speeches by Presents" Series of Activities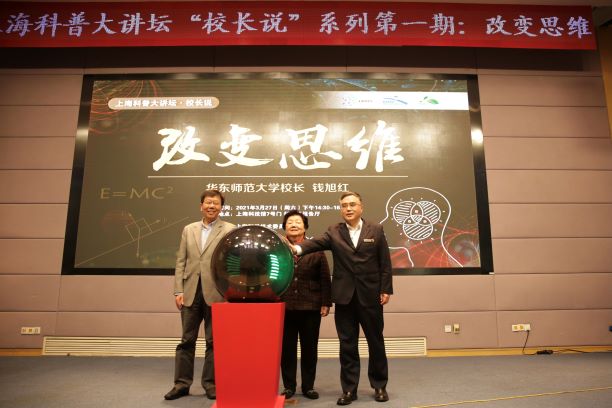 In order to make better use of the social effects of Shanghai Science Communication Forum, and cultivate the spirit of scientific and technological innovation among the public, especially the young generation, the Forum launched the new "Speeches by Presents" series of activities in 2021, which offered a platform for the public to have heated discussion on hot topics such as reform of higher education, training of the best talents, and scientific and technological innovation. In the afternoon of March 27, the first session of "Speeches by Presents" was held at SSTM. Zuo Huanchen, Honorary Chairman of Shanghai Science Education Development Foundation, Qian Xuhong, Academician of the Chinese Academy of Engineering and President of East China Normal University, and Wang Xiaoming, Curator of SSTM attended the launching ceremony of the event.
During the lecture, President Qian emphasized that all thinking modes have their own unique advantages and disadvantages, whether it's the ancient Chinese thinking mode, ancient Greek thinking mode, classical thinking or quantum thinking. So we can't fall into the "either-or" dilemma. Anyone with free thinking needs to have both strict logical thinking and imaginative imaginal thinking, systematic pattern thinking, etc. The glorious future of the Chinese nation will be built on the thinking advantage with its own characteristics and integrating Chinese and Western cultures.