An open stage play "The Journey of an Anchovy Whale" kicks off in the museum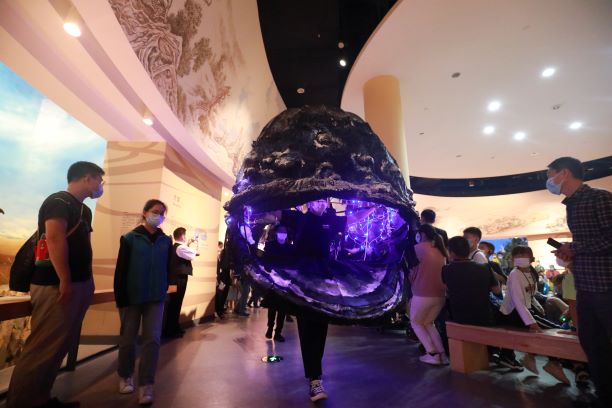 In response to the country's concern for ecological civilization and biodiversity, the Shanghai Natural History Museum (a branch of Shanghai Science & Technology Museum) launched an "open" museum play on the World Animal Day on October 4, 2020–"The Journey of an Anchovy Whale." The event brought the immersive stage into the exhibition area, integrating the sensory experience of the stage play into the exhibition and activities, guiding the public to pay attention to marine biodiversity and arousing their awareness of protecting the marine ecological environment. There were 4 performances in the Window of Nature exhibition area on the second basement floor on October 4 and October 5, with nearly 1,600 spectators participating.
"The Journey of an Anchovy Whale" immersive participatory play was the first "open" play in the Shanghai Natural History Museum. It was created by a professional science team and a drama production team, and premiered at the opening ceremony of the 2020 Jing'an Science and Technology Festival. The whole performance lasted 30 minutes and was completed by 8 professional actors and through their interaction with more than 100 live visitors. This stage play told the story that accompanied by the protagonist, the ocean current named "Ou Xun," an anchovy whale that came from afar from the Pacific Ocean went through four chapters: pursuit, singing, whale fall, and new birth, and finally found the meaning of life in the harmonious ocean created together with humans.