Special Activity on Metamaterial at Shanghai Popular Science Forum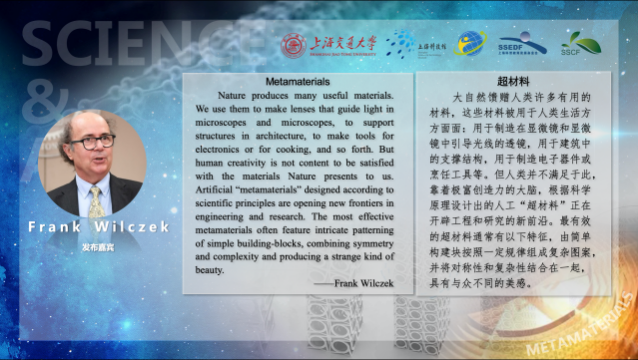 On the afternoon of May 20, 2022, the Special Activity of Shanghai Popular Science Forum: Launch of Activities of Tsung-Dao Lee Science and Arts Lecture Fund, 2022 was successfully live-streamed. This activity was organized by Shanghai Jiao Tong University, Shanghai Science and Technology Museum, International Scientific Exchange Foundation of China and Shanghai Science Education Development Foundation. Metamaterials have been the scientific theme of the 2022 activities of the fund.
Academician of Chinese Academy of Engineering Zhou Ji did a report entitled Metamaterials: Reconstructing the World with Artificial Atoms, proposing the idea of making novel functional materials with metamaterials and ordinary materials, and thus creating a number of novel functional materials on such basis. Li Geng, professor from Kyoto University of the Arts delivered a lecture under the title of The Possibility and Future of Artistic Expression, believing that art is an expression of human's feeling and science is a way for human to explore and verify the world. He urges that both science and art originate from the imagination of feeling, and have scientificity and regularity.