SSTM hosts The 'World Oceans Day' Saloon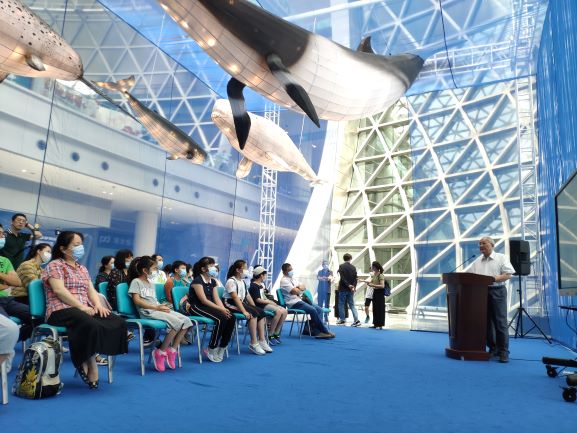 On June 8, 2020, the eleventh "World Oceans Day" and the twelfth China's "National Ocean Awareness Day", themed on "Protecting Mangroves and Marine Ecology". In order to strengthen the public awareness of marine environment protection, Shanghai Science & Technology Museum held a saloon themed on "Promote Sustainable Innovations and Protect the Cradle of Life" on June 6, which was greatly supported by the Shanghai Municipal Marine Management Affairs Center.
At the site of the saloon, Pan Yingjie, former president of the Shanghai Ocean University, and Zhou Haolang, vice director of Guangxi Mangrove Research Center, was invited to deliver two lectures, "The Most Precious Marine Biological Resources of Mankind: the Diverse Marine Organisms" and "The Status Quo and Protection of Coral Reefs on Weizhou Island", respectively. Thirty audiences attended the lectures in the ad hoc Ocean Cubic at the "Whales Wonderland" on the basement floor. In the Q&A session, the two guest speakers answered the questions from the audience both online and at the site, thanks to the live real audio, by which the lectures were simultaneously delivered. After the lectures, the guests visited the innovative exhibition hall, the "Whales Wonderland".