The Opening of Cloud Streaming of "Dreams of the Space Station: Celebrating the Triumphant Return of Taikonauts"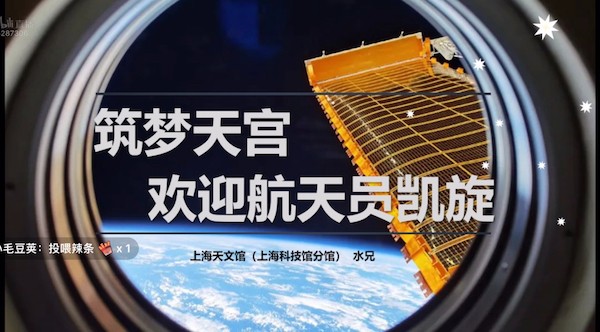 What is the Chinese space station composed of? What cutting-edge technologies are behind the necessities of life of taikonauts? What have Chinese people been through to get man into space? After the triumphant return of the three taikonauts from a 180-day trip to space, a "Dreams of the Space Station: Celebrating the Triumphant Return of Taikonauts" science popularization show was live-streamed on multiple platforms simultaneously on the afternoon of April 16, 2022. Mr. Shi Wei, head of the Online Science Popularization Department, Exhibition & Education Center, Shanghai Astronomy Museum, acted as the host, guiding the adolescents to space and follow in the footsteps of taikonauts.
In the 45-munite cloud streaming, starting with the core components and core module of the space station, Shi Wei reviewed the missions of the Shenzhou-13 manned spaceship, and introduced the construction of the core module and the functions of each module part. He vividly demonstrated how the node module and other modules dock with models, and showed how taikonauts get out of the module for mission performance and the application and verification of other space station technologies. In addition to observing the exterior of the core module, the viewers had the chance to experience in the module through the online virtual exhibition hall of Shanghai Astronomy Museum, and learn about the daily life of taikonauts. In the end, Shi Wei reviewed the history of the manned space flight program of China, and shared his opinions on its future. Over 500,000 adolescents "liked" the marvelous Tianhe Core Module on media platforms like xinhuanet, xinmin.cn, and Bilibili, and cheered for the progress towards the Space Flight Dream of China.