The Shanghai Science Communication Forum revealed the ultra-intense ultra-short laser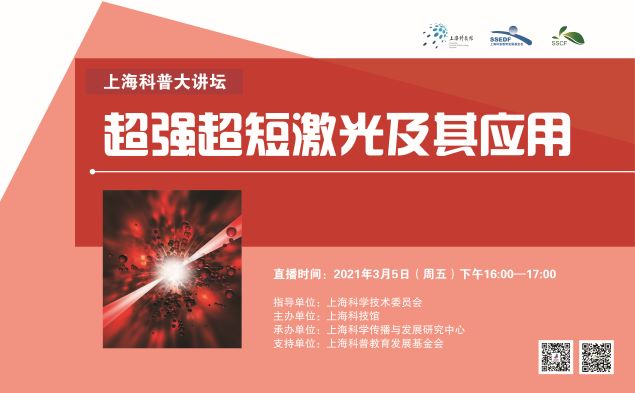 On March 5, 2021, the Shanghai Science Communication Forum held the first online lecture of 2021. This lecture specially invited Gérard Mourou, a Nobel Prize winner in Physics, a foreign academician of the Chinese Academy of Sciences, and a professor of the École Polytechnique. He shared with the audience his knowledge of the ultra-intense ultra-short laser technique.
Professor Mourou first introduced the basic concept of laser. Then he focused on the chirped pulse amplification (CPA) technique that everyone is interested in. It is a technique of compressing laser pulses to increase their intensity. Let laser pulses travel in a longer optical fiber. Stretch, amplify, and compress them continuously to obtain ultra-short laser pulses. This technique opened a new research field of ultra-intense ultra-short laser. At present, ultra-intense ultra-short lasers have been widely used in many fields, such as space exploration, cancer treatment, bioimaging, ophthalmic laser surgery, precision processing, weather intervention, etc. Due to the broad application prospects of ultra-intense ultra-short laser, extreme light infrastructures are being built all over the world. In the end, Professor Mourou introduced the Extreme Light Infrastructure Project conceived by him. Currently, 40 laboratories from 13 European countries have participated in the project.