SNHM Launched Online Courses about Qinling Mountains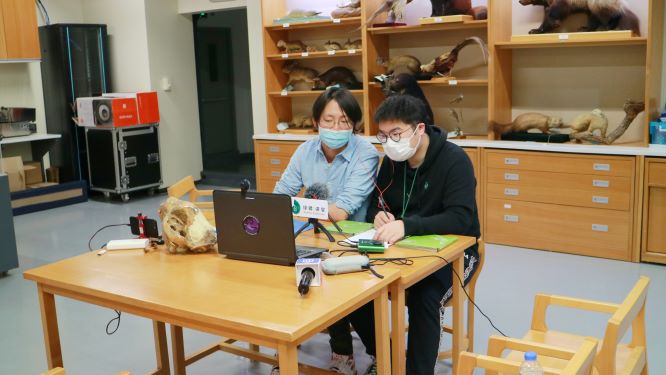 On April 20, President Xi Jinping arrived at Shaanxi for an inspectional tour. His first stop was Niubeiliang Nature Reserve where he learned about the ecological conservation efforts in Qinling Mountains. As the dividing line of North and South China, Qinling Mountains are a huge natural shield with a wide range of functions, including regulating the climate, preserving soil and water and maintaining biological diversity. To respond to the state's call for ecological protection and welcome in the 51st World Earth Day, SNHM (a SSTM branch) launched a series of online courses on Qinling. On April 25, Nautilus Lectures's online course "Stories of the Animals in Qinling Mountains" was live streamed as scheduled and the viewers were able to watch it online and interact with the lecturers through the official Bilibili account of SNHM.
The live stream event started with the highlights of SSTM's documentary series China's Rare Species. The series explains the habits and living conditions of the rare and endangered species in China from scientific and cultural perspectives, displays China's rich diversity of natural habitats, and records 14 rare species within China's territory, including "Four Treasures of Qinling"—"Golden Snub-nosed Monkey," "Takin," "Panda" and "Crested Ibis" (in production). The main lecturer Doctor He Xin, associate research fellow at the Natural History Research Center of SSTM, talked about the iconic specimens of the four species on display at the Qinlin section of SNHM. Ma Yu from the Publicity Department of Niubeiling Nature Reserve and Cai Qiong from the Public Education Department of Guanyin Mountain National Nature Reserve were invited to talk through video calls about the specimens on display at the Niubeiliang Exhibition Hall of Biological Diversity and Niubeiliang's natural education activities in campuses, and Guanyin Mountain School of Nature and their routine work, such as the installation of surveillance facilities for leopards and other wild animals.