Finding Lovely Birds—SNHM Launched "SNHM Bird Season"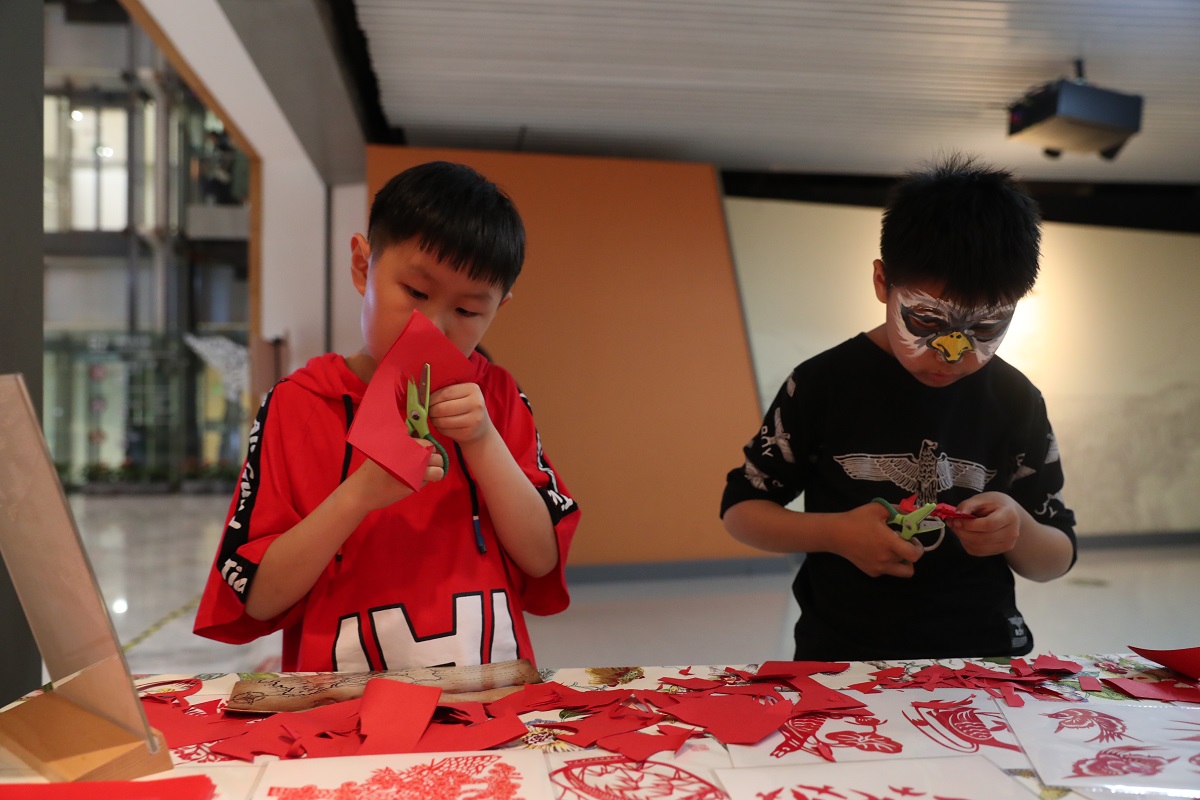 On March 30, the Shanghai Natural History Museum (SNHM) held a launch ceremony for its "SNHM Bird Season". The SNHM Bird Season is an important brand event launched by the SNHM in 2019. It lasted from March 30 to the end of June.

The opening ceremony was kicked off in the flute-Sheng ensemble Birds in the Shade performed by six teachers and students of the Shanghai Conservatory of Music. The ensemble was followed by a themed speech titled Feathered Angels Movement given by a special guest called Du Mingqiu, Ph.D. in architectural acoustics of the Tongji University and Associate Professor of the China Academy of Art. In the interactive section, the audience created, with the specially prepared bamboo flutes and ocarinas and under the lecturer's guide, an ensemble of Birds' Ode to Joy where it seemed that the birds in the woods and the wading birds sang alternatively in the mountain rain and their songs echoed all over the valley.
On the same day, the "Fantastic Bird Camp", a scene-based parent-child exhibition, was also officially opened in the B2 Hall of the SNHM. Created by the museum itself, the exhibition set up some experience-based scenes from the four perspectives of "clothing, food, housing and travel" of birds, and formed an educational bird-themed exhibition event for children.
The SNHM Bird Season has seen five major themed events, including the "Fantastic Bird Camp" exhibition, the "Week of Love for Birds" outdoor bird observation, the "A Hundred Birds" Museum Night, the "Young Bird Seekers" Carnival for the Young People, Face to Face with Scientists and the "SNHM Bird Season" series of the Nautilus Class. At the same time, the theme of birds has been merged into the daily educational activities of the SNHM. From Tuesday to Sunday, the museum has held the "Nautilus Bird Day"-themed activities every day, including Bird Experts and Bird Sounds, Bird Songs and Bird Paintings, Young Bird Experts, Go to Flying Birds, Explore the Bird Jungle and Bird Detectives.
Schedule of the "Finding Lovely Birds" 2019 SNHM Bird Season
Large Themed Events (once a month)
(1) "Fantastic Bird Camp" — Interactive and Scientific Scene-Based Parent-Child Exhibition
Date: March 30 — April 29, 2019
Venue: SNHM B2 Hall
Target Groups: Families with children(2) "Week of Love for Birds" — Outdoor Bird Observation Activity
Date: April 14, 2019
Venue: To be determined
Target Groups: Fans and families with children(3) Museum Night — Party of a Hundred Birds
Date: May 18, 2019
Venue: SNHM
Target Groups: Bird fans, families with children, volunteers, etc.(4) Young People's Carnival - Young Bird Seekers
Date: June 7
Venue: "Dinosaurs' Golden Age"-themed area
Target Groups: 7-12 year olds(5) Face to Face with Scientists
Date: 29-30 June
Venue: SNHM B2 Atrium
Target Groups: People of All Ages(6) Nautilus Classroom "SNHM Bird Season" Series
Date: April—June
Venue: SNHM 2F Report Hall or Discovery Center
Target Groups: People of All Ages
Nautilus Bird Day:
Tuesday: Bird Experts and Bird Sounds
Wednesday: Bird Songs and Bird Paintings
Thursday: Young Bird Experts
Friday: Go to Flying Birds
Saturday: Explore the Bird Jungle
Sunday: Bird Detectives