Opening of the 196th Issue of Nautilus Auditorium by Shanghai Natural History Museum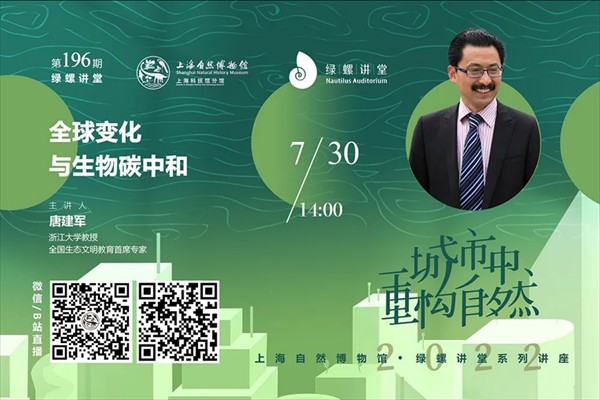 In response to global climate change, China has proposed the goal of "striving to reach the peak of carbon dioxide emissions by 2030 and achieve carbon neutrality by 2060". On the afternoon of July 30, 2022, Tang Jianjun, an outstanding A-post teacher of Zhejiang University, a national outstanding scientific and technological worker, a national advanced model of scientific and technological volunteers, a national excellent scientific and technological worker in ecology, and a national chief expert in ecological civilization education, was invited to the 196th issue of Nautilus Auditorium of Shanghai Natural History Museum (Branch of Shanghai Science and Technology Museum) as a special guest. He gave a wonderful science communication lecture themed with "Global Change and Biological Carbon Neutralization", revealing the role of biocarbon neutralization in mitigating global warming.
Introducing the topic from the implication and development of global climate change, Professor Tang attracted the audience's attention to global warming by talking about the harm caused by unseasonable weather to mankind. He analyzed the causes of global warming, emphasized the importance of human production and lifestyle to mitigate global warming, and pointed out the role of biocarbon neutralization such as photosynthesis in mitigation of global warming.
The Ecology 101 Laboratory of Zhejiang University has conducted a series of interesting studies on global change and biological response. Professor Tang shared some of the achievements by the laboratory. It was found that plants of different carbon metabolism types performed photosynthesis with different efficiency under different temperature conditions. His speech triggered the audience's in-depth thinking on global warming, carbon emission reduction and other related issues.
After the speech, Professor Tang answered the audience's questions, for example, "can we mitigate global warming by changing our daily lifestyle", "how can organisms play a role in 'carbon neutralization' through photosynthesis", "are plants different in terms of their abilities to use carbon dioxide in the atmosphere", "how much can organisms do to regulate global environmental change", etc.
As a public lecture on science communication sponsored by Shanghai Natural History Museum, the "Nautilus Auditorium" aims to promote the scientific spirit and popularize scientific knowledge to the public. In this live broadcast for more than one hour, there were 5,409 Internet viewers at the same time at its peak. In the context of the ongoing epidemic, the Nautilus Auditorium of Shanghai Natural History Museum will continue to carry out Internet-based science communication activities, and sustain its output of scientific knowledge on the platform of Bilibili bullet-screen video website through live broadcast, video editing and graphic dynamics.