SSTM launched the Wonderland of Whales to celebrate the IMD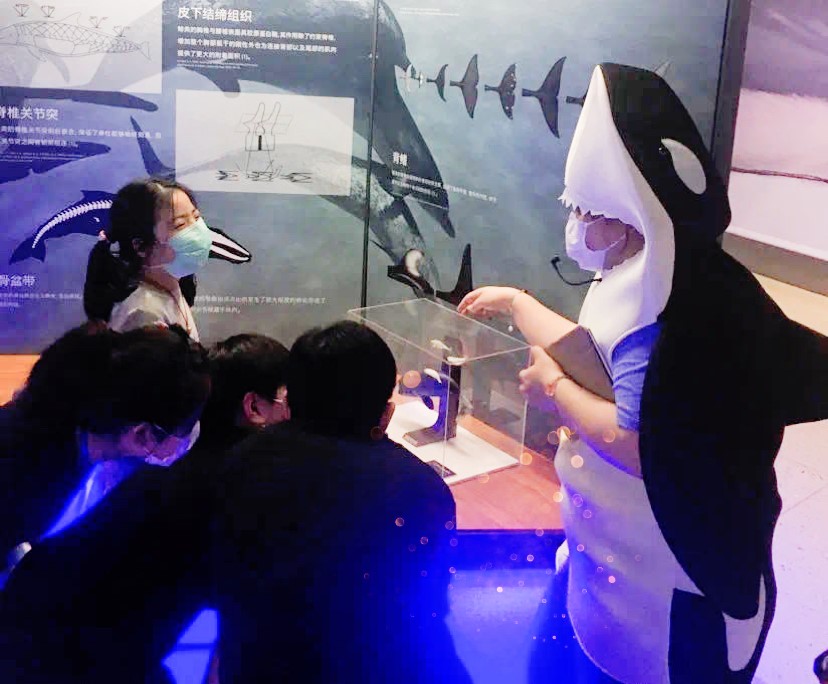 To celebrate the International Museum Day, the SSTM had a cloud "whales" party on May 17, in which the chief docent and the senior whale specialist led the audience to travel the Tale of Whales offline by live-streaming on douyin, offering guide service for the audience in digital and multiple ways. People could enjoy the one-on-one guide through the digital way simply by watching the live on their mobile phones. The audience were so interested that the two-hour live show got 24,000 likes. The workers and the audience had a wonderful and much appreciated time communicating with each other online.
Dong Yi, the chief docent, and Zhang Weiyun, the specialist dressed as a killer whale, led the audience on the spot and online to explore the Tale of Whales. Starting from the legend of whales, Dong Yi talked about the relationship between human beings and whales for thousands of years and the significance of whales in human history. The cadence in his voice and the humor in his talking attracted the audience. Dressing as a killer whale, Zhang Weiyun caught the attention of the audience once showing up. She talked about the evolution of the ancestors of whales from the land to the water, their life in water, and how humans should protect whales. Everyone learned a lot from her informative speech. At the end, the two introduced the cultural and creative products generated from the Tale of Whales. The offline audience also participated in the themed activities and games, through which they learned more about whales and dolphins.