"Shanghai Natural History Museum on Cloud" Live Streamed SSMT's Best Collections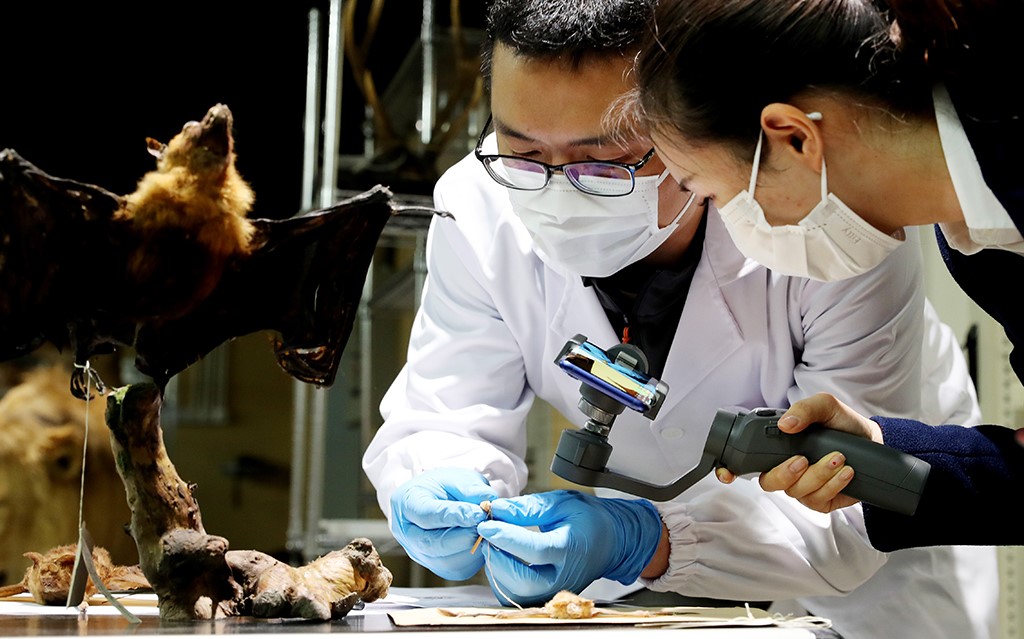 On April 18, the 5th anniversary of the inauguration of the new venue of Shanghai Natural History Museum (SNHM, a SSTM branch), the second episode of "Shanghai Natural History Museum on Cloud" was live streamed on 5G networks as scheduled. Together, the guides and researchers of SNTM showed the online viewers around the storerooms of their collections and told the wonderful stories behind them. Titled "Knowing the Bats," the live streaming event focused on bats, the wildlife species that recently came under great attention. Zhang Wei, a PhD from the post-doctoral R&D center of SSTM, presented to the viewers the collection of bat specimens at SNTM and elaborated on the classification and distribution of bats, giving the public a better understanding of the species.
Amid the outbreak, SNTM launched online live AR expositions at its exhibition areas in collaboration with China Unicom 5G Cultural Tourism Live Interactive. The event was live streamed simultaneously on Wo, CCTV.com, Kuaishou.com. Douyu.com, Huya.com, iQiyi.com, etc. in February and March, season 1 focused on the permanent exhibitions at SNTM and includes 11 live expositions, including "A Gala of Animals in the Sea, on the Land and in the Sky" "Delicious Crabs, Luscious Yellow Wine" and "The Stories of Old Specimens." They got millions of views. Although SNTM reopened on March 13, the live streaming events continued. Season 2 will feature more "precious" collections than those of Season 1. Based on the over 300,000 objects in the storerooms, researchers of SNTM will be invited to talk about how they conduct scientific researches. Every Saturday from now on, SNTM will release one of their nine 20-min live expositions, including "Secrets of Animal Skulls," "Marine Mammals" and "Birds during the Changes of Shanghai." Watching the researchers work, the viewers will learn about the wonderful stories and scientific theories behind the objects.