The Final of the 4th Chinese Undergraduate Astronomical Innovation Contest Was Successfully Held in Shanghai Astronomy Museum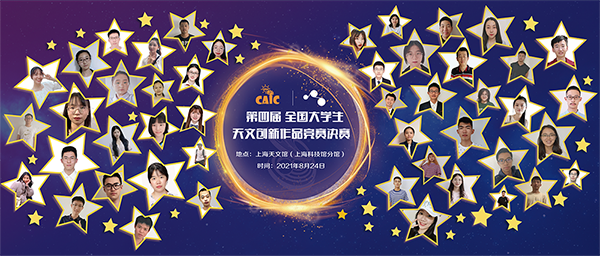 On August 24, 2021, the 4th Chinese Undergraduate Astronomical Innovation Contest (CAIC) was successfully held in Shanghai Astronomy Museum (the Branch of Shanghai Science and Technology Museum).
Since its launch in May 2021, the competition collected 163 valid entries from 68 universities, which was the highest in all previous competitions. The entries presented diversified forms, covering a wide range of astronomical science popularization forms including videos, courses, software and cartoons. At the same time, the entries also fully reflected the creativity of contemporary college students and their enthusiasm for astronomical science popularization. After the preliminary selection, a total of 49 works were successfully shortlisted for the final.
In this final, seven experts from astronomical research, science popularization education, higher learning and other fields were specially invited to constitute the final jury, which was responsible for the comprehensive evaluation of the works from various dimensions including scientific, innovative and practical. In the end, the final jury selected 7 first prizes and 16 second prizes and 26 third prizes as well as 3 best organization prizes. Furthermore, 1 highest popularity award in the same period was selected online.