The "Hello, Frog" Public Science Project of Shanghai Natural History Museum Kicked Off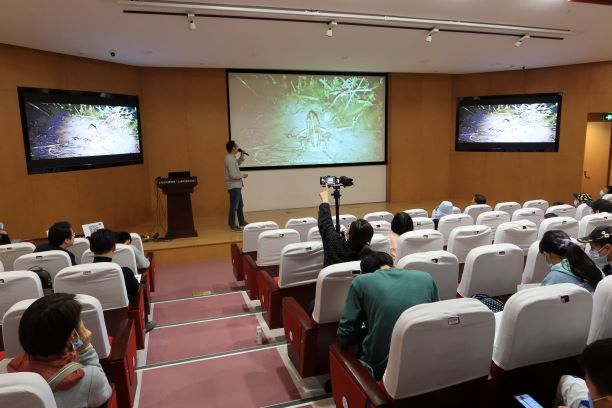 On April 17, 2021, the first offline exchange meeting of the "Hello, Frog" project under the "Find Nature" series activities of Shanghai Natural History Museum was successfully held. Zhang Wei, an amphibian researcher from the Natural History Research Center and the project scientist, and 50 fans attended the meeting offline. Besides, 522 enthusiasts participated in the livestreaming and interaction via bullet screen on Bilibili.

The project encourages urban citizens to walk into nature, record nature, collect nature, and pay attention to "biodiversity conservation". At the exchange meeting, Dr. Zhang Wei focused on frogs in Shanghai, and discussed the types, distinguishing characteristics, life habits, phenological monitoring, diversity monitoring of amphibians in Shanghai. He introduced basic knowledge of frogs, data collection methods in frog survey, the detection process of frogs in cities, etc. The participants talked with the expert on how to select samples of monitoring, and record monitoring data and track.
Through a series of activities, the project encouraged the public to take action on things around them while enjoying the convenience urban life, pay attention to biodiversity, harmonious coexistence of people and nature, keep a watchful eye on and record the current living situation of frogs in the city to provide a basis for biodiversity monitoring and conservation.