The Astronomical Phenomena Hall of Shanghai Astronomy Museum launched the Special Program Celebrating the Magpie Festival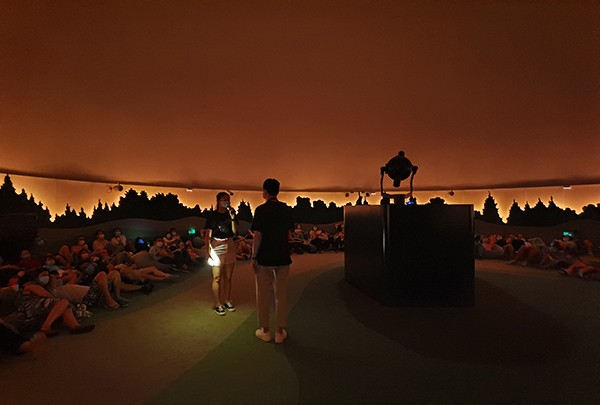 On August 14, 2021, the Magpie Festival, an important traditional festival in China, Shanghai Astronomy Museum (the Branch of Shanghai Science and Technology Museum) brought a special program celebrating the Magpie Festival at the Optical Astronomical Phenomena Hall, which was staged four times throughout the day. In this program, the staff from the Exhibition and Education Center of Planetarium played a couple who came to Dishui Lake to observe the stars in Magpie Festival. As the astronomy enthusiasts, they used vivid and natural language and performances to popularize the knowledge of how to use the starry sky to locate the Altair and Vega in ancient Chinese astronomy, as well as the knowledge represented by constellations.
Additionally, the program also introduced and displayed the western constellation system, so that the audience can understand the unique appearance of Chinese Altair and Vega in the west. Meanwhile, their popularization of the concepts of ecliptic and the 12 signs of the Zodiac also made the audience look for constellation which was consistent with themselves and appreciate the starry sky in a quietly manner from different perspectives at home and abroad.