The Mascots of Three Museums Appeared Together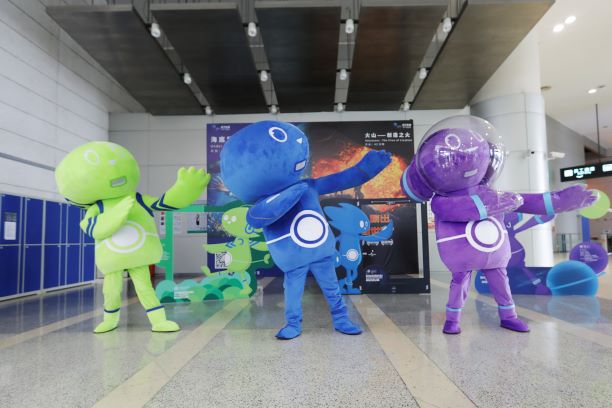 "Hello everyone, my name is Keqi. I come from the planet B21. I love scientific experiments and making small inventions. My dream is to become a great scientist and make contributions to human civilization and progress." This is Shanghai Science and Technology Museum's mascot Keqi unveiled on December 18, 2020 together with Shanghai Natural History Museum's mascot Kemeng and Shanghai Astronomy Museum's mascot Kefei. Each of them has a unique appearance and bright color. They immediately attracted the audiences' attention when they appeared. The children stopped, watched and interacted with the mascots intimately.
The design of the three mascots was rebuilt and evolved on the basis of SSTM's logo to reflect human's connections with science, nature and the universe. SSTM's mascot is blue, giving a sense of science, technology and future; Shanghai Natural History Museum's mascot is green, showing the vitality of natural species; Shanghai Astronomy Museum's mascot is purple, highlighting the vastness and mystery of the universe. In addition, SSTM has designed and developed a series of derivatives such as badges, pillows and notepads based on the mascots, which visitors can buy at the souvenir shop in SSTM or on Taobao.