The three major popular science education brands of the Shanghai Natural History Museum appeared in Honghe Prefecture, Yunnan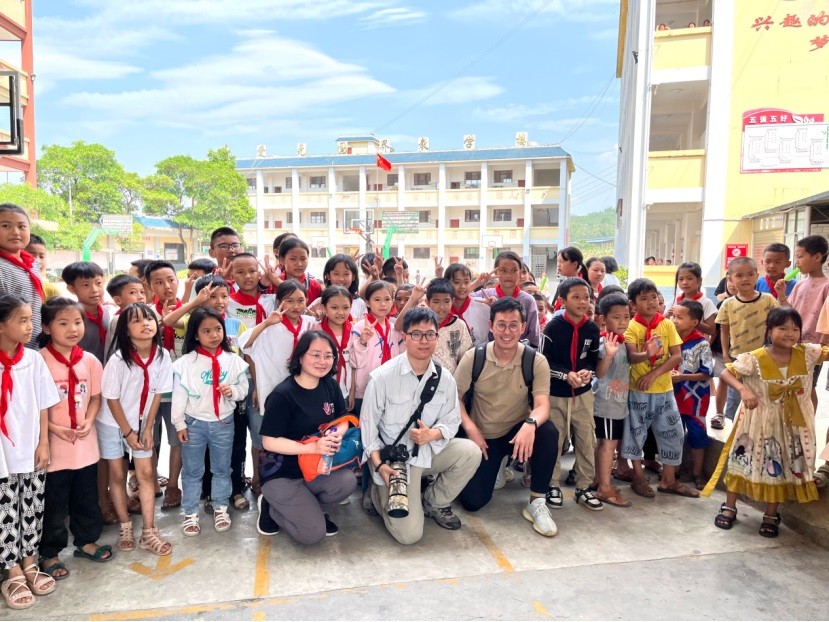 From May 22 to 26, 2023, the team of the Exhibition and Education Center of the Shanghai Natural History Museum went to Honghe Prefecture, Yunnan to carry out science education activities, and sent the science education brand resources of "face to face with scientists", "fun in nature" and "mountain and sea museum world" to the local area, composing a new chapter in the practice of Shanghai-Yunnan cooperation science popularization resources into the west.
On the afternoon of May 23, the "Talking face to face with scientists" educational brand activity entered Mengqiao Township Central Primary School and Maandi Township Central Primary School in Jinping County, explaining scientific knowledge in aerospace, animal and plant and ecological protection and paleontology to more than 300 students.
In order to allow more viewers to visually witness the ecological wonder of the butterfly explosion, on the afternoon of May 24, the outdoor live stream brand "Fun in Nature" live-stream the ecological phenomenon of the butterfly explosion in Butterfly Valley, which was watched by more than 6,000 people online. In the live stream, the team of the Exhibition and Education Center of the Shanghai Natural History Museum and Yang Zhenwen, the curator of Red River Butterfly Valley Ecological Museum, China, explained the phenomenon of butterfly bursting to the students and watched the romantic scene of "dancing with butterflies" together. During the live stream, teachers and students from Shicun Primary School in Changning District, Shanghai, were also connected and interacted to answer questions online.
In the afternoon of May 25, the Shanghai Natural History Museum's culture and science integration brand "Mountain and Sea Museum World" entered the Museum of Honghe, bringing a lecture on "Illusion and Reality in the World of Shan Hai Jing" to nearly 100 students from Yinhe Primary School in Mengzi and Mile Second Middle School in Mile, passing on traditional cultural knowledge through the combination of natural science knowledge and national classics, and building cultural and national self-confidence in the hearts of the students.