Shanghai Natural History Museum launched a special activity on "Mother River Protection Day"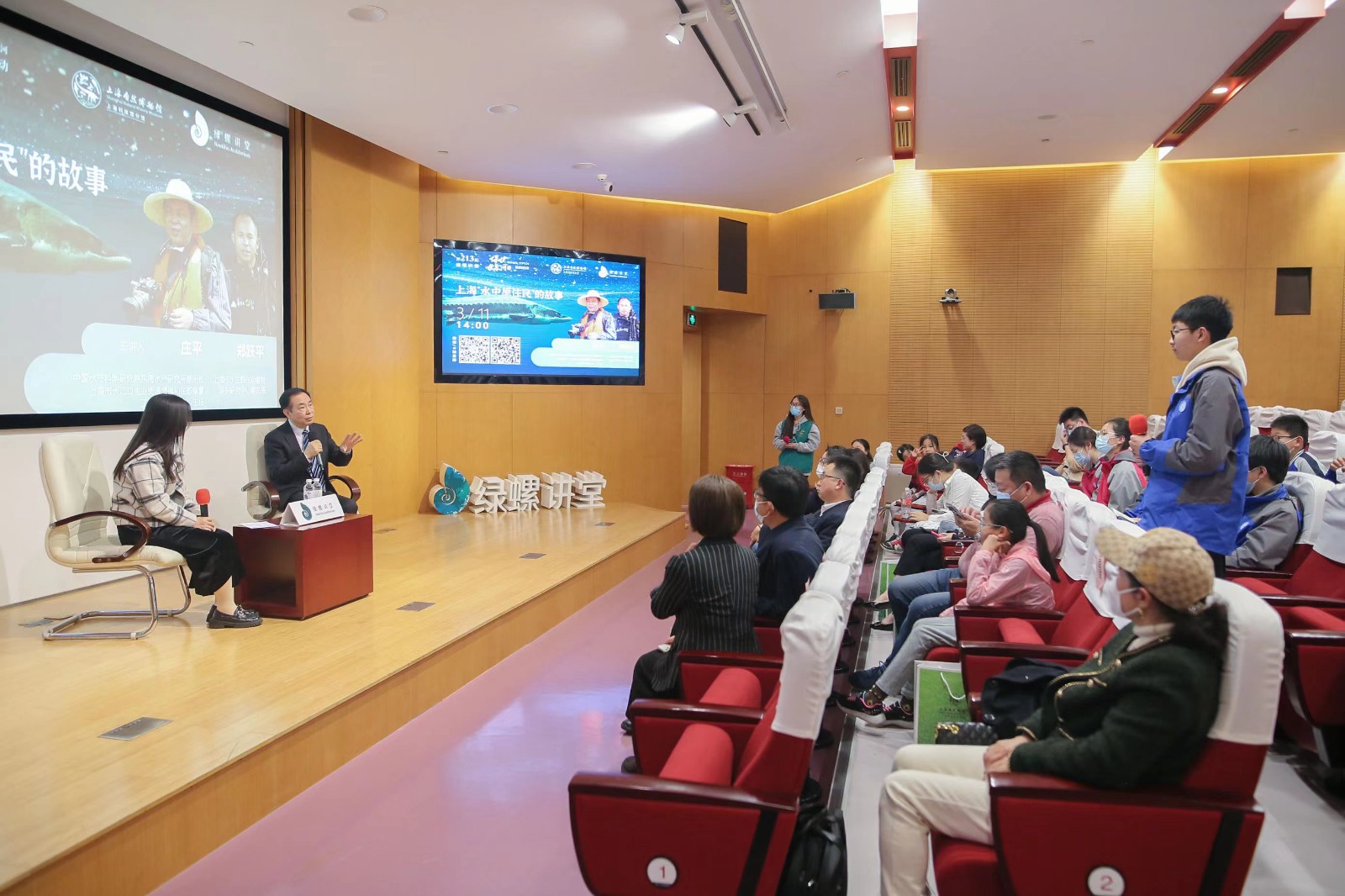 March 9 is the "Mother River Protection Day". In response to the national strategy of "The Great Protection of the Yangtze River" and the urban strategy of "Huangpu River and Suzhou Creek", on March 11, 2023, with the support of Shanghai Yangtze River Fish Protection Foundation, Shanghai Natural History Museum and Shanghai Aquatic Wildlife Conservation Research Center launched a unique activity with the theme of "Living by Water and Protecting the Rivers in Shanghai".
Relying on the public beneficial science education lecture brand "Nautilus Auditorium", Zhuang Ping, former director of East China Sea Fishery Research Institute, Chinese Academy of Fishery Sciences, director of Yangpu Observation Experiment Station of National Fishery Resources and Environment, director of Shanghai Yangtze River Estuary Fishery Resources Proliferation and Ecological Restoration Engineering Technology Research Center, and Zheng Yueping, deputy director of Shanghai Aquatic Wildlife Conservation Research Center, were specially invited to build a dialogue platform between the public and experts and scholars through keynote speeches, on-site connection and audience interaction, so as to let the audience know that Shanghai is not only a waterfront and wetland city, but also a veritable aquatic animal paradise, guide the public to pay attention to aquatic biodiversity and encourage them to participate in the Yangtze River protection.
Zhuang Ping gave vivid science education lectures around star species such as "Three Yangtze Delicacies", "Five Fishing Seasons" and national treasure rare animals distributed in Shanghai, so that the audience could know the wonderful stories of these aquatic "aborigines" in Shanghai. With a spot connection to Shanghai Aquatic Wildlife Conservation Research Center, Zheng Yueping led the audience to explore the living culture of the national treasure Chinese sturgeon and reveal the conservation research work of Chinese sturgeon. The backstage feeding area, which is rarely open to the public, also shows the audience the daily life of the big fish in the Yangtze River.