SSTM Metro Station for Popular Science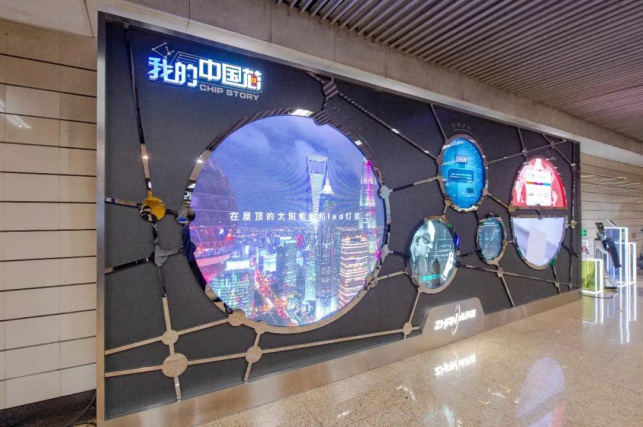 "SSTM Metro Station for Popular Science"- co-organized by Pudong New District Economy, Science and Technology Committee, Shanghai Science & Technology Museum and Shentong Metro Group - is a flagship project at the Shanghai Science & Technology Museum Station of Subway Line 2. Through the project, the wide-ranging exhibits and popular science resources of the SSTM are incorporated into the construction of a public cultural space at the metro station to provide passengers with quality and diversified popular science, cultural and art experience. As the first collaboration between a metro station and a national first-grade museum, the project is expected to play a guiding and demonstrative role in the development of a popular science culture in the public spaces of Shanghai.
The display window of the project is at a corner of the station. Apart from three fixed sections to create a brand, its themes are regularly replaced. The first issue is themed "China's Story" as Pudong New District is a hub of the chip industry and chips are now a fundamental part of our life. What is a chip? How is it manufactured? How can such a tiny thing have an impact on every aspect of our life? In which new areas will it be applied in the future? Come to Shanghai Science & Technology Museum Station to find the answers!
In the "Beauty of Science" section, HD films are screened to show the beautiful moments in the full life cycle of a chip, from being manufactured out of silicon to being utilized in various scenarios, and the aesthetic elements in science to impress the viewers with gorgeous and amazing visual effects.
In the "Power of Technology" section, three transparent screens and real objects are on display to demonstrate the manufacturing process, history, application scenarios, industrial trends and other aspects of chips in a vivid and entertaining manner. In the display window, there are real objects like silica sands, silica rods and silica wafers to give the viewers a more intuitive idea of how the chips are made; a few noted Chinese-made chips, including Unisoc Tiger T710 and Huawei Kirin 980, are also displayed for the visitors to have a closer look at the excellent techniques used in such chips.
In the "Light of Innovation" section, there are a few series of videos, including "A Dip of Popular Science" and "The Easter Eggs in the History of Science", that narrate the highlights, major events and figures in the history of science with the purpose of advocating the spirit of science and inspiring innovation; and visitors can also find information about the latest exhibitions and events at Shanghai Science & Technology Museum.