Shanghai Science Communication Forum talks about the opportunities and challenges of "mysterious" chemistry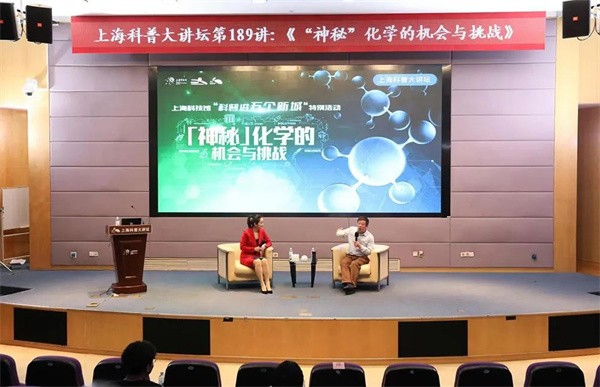 On the afternoon of November 12, 2022, special activity in the classroom of the Boundless Museum of "Popular Science into Five New Cities" of the Shanghai Science & Technology Museum -- Lecture 189 of the Shanghai Science Communication Forum --Opportunities and Challenges of "Mysterious" Chemistry specially invited Zhao Dongyuan, an academician of the Chinese Academy of Sciences and dean of the School of Chemistry and Materials of Fudan University to talk about the nature of chemistry, and describe the opportunities and challenges contained in chemical science in combination with the research on functional mesoporous materials.
Zhao Dongyuan introduced the definition, development process and development prospects of chemistry in a simple way. Taking the ubiquitous chemical phenomena and chemical products as examples and combining with the Chinese and English sources of the word "chemistry", he introduced the rich connotation of chemistry as a natural science from the perspectives of literature, philosophy and revolutionary development of chemistry. In combination with the research of functional mesoporous materials, he explained the opportunities and challenges contained in chemical science. He encouraged young people to rush to the broad stage of chemistry and change our lives and futures with chemistry.