The Galaxy Rostrum of Shanghai Astronomy Museum held a special activity -"Her Universe"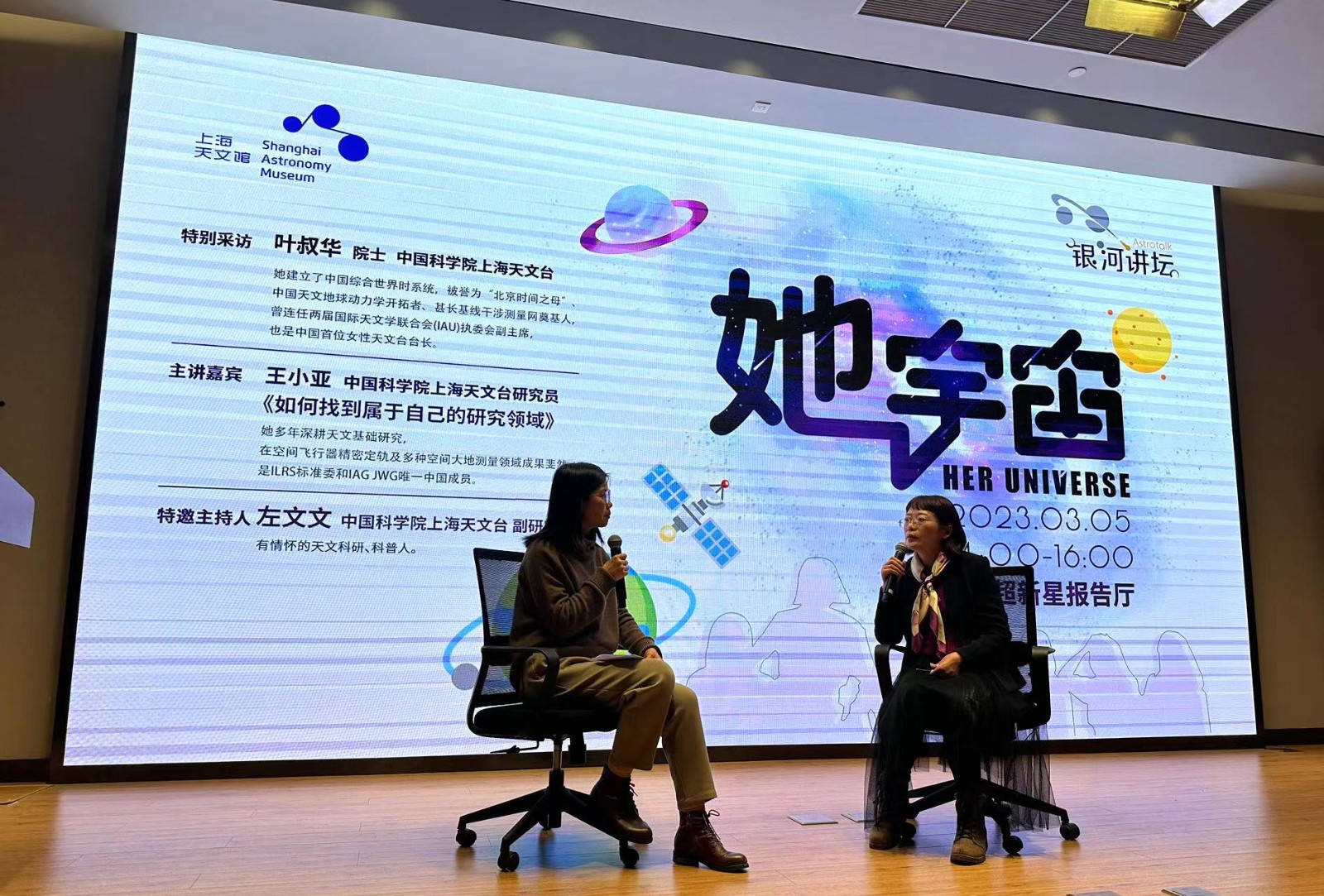 To celebrate the International Women's Day, on March 5, 2023, the Galaxy Rostrum of Shanghai Astronomy Museum held a special activity of "Her Universe", inviting female researchers to share their scientific research stories and life experiences. In the activity, Fellow Ye Shuhua and Researcher Wang Xiaoya from Shanghai Astronomical Observatory of Chinese Academy of Sciences acted as the keynote speakers, while Associate Researcher Zuo Wenwen acted as the special host and interviewer.
Ms. Ye Shuhua shared her scientific research experience in the interview. As the founder of Chinese Universal Time System, she also faced a great challenge from scratch after the work of Beijing time measurement and release was transferred to Xi'an. She finally led Shanghai Astronomical Observatory into the field of international cooperation with VLBI technology. Acting as an important proponent of the construction of Shanghai Astronomy Museum, she pointed out that China's space exploration will inevitably reach the edge of the solar system, and the display of astronomy museum should keep pace with the future development of science and technology.
Ms. Wang Xiaoya gave a keynote speech on "How to Find Your Own Research Field". Deeply involved in basic astronomical research for decades, she has constantly broken through the comfort zone, and has accumulated a number of important scientific research achievements across the fields of spacecraft precise orbit determination, space geodesy, GPS meteorology and others.
Ms. Zuo Wenwen, acting as not only a researcher but also a science education person, has published more than 20 SCI articles and nearly 100 science education articles and is the author of many science education monographs and translations as well as the curator of many science education videos and science art exhibitions. Her speech is vivid and unique, which reflects the deep combination of thinking and practice in the fields of science and humanities.
During the interactive session, the guests gave practical "valuable" answers to questions such as "how to arouse interest in learning" and "whether to share work experience with peers".