Shanghai Astronomy Museum Launched the "Galaxy Rostrum", a Brand-new Science Popularization Activity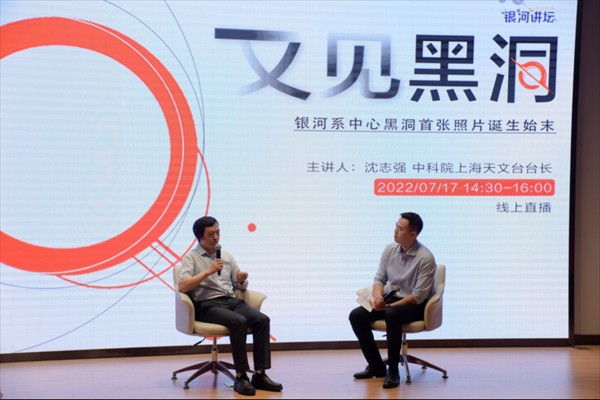 The Regulations of Shanghai Science and Technology Popularization officially promulgated in March this year clearly stated that Shanghai Science and Technology Museum is an important comprehensive science popularization venue in Shanghai, which shall carry out normalized science popularization activities and set up corresponding cooperation and communication platforms to give full play to its science popularization demonstration function. Since its opening last year, Shanghai Astronomy Museum (Branch of Shanghai Science and Technology Museum) has launched a series of characteristic brand activities revolving around exhibition area activities, outward-bound courses, and public activities, with a total of 730,000 visitors and the number of followers of WeChat official account exceeding 1.5 million, thus becoming a "new business card" for telling Chinese stories well and enhancing the soft power of Shanghai. On the first anniversary of its opening on July 17, 2022, Shanghai Astronomy Museum further launched the Galaxy Rostrum, a brand-new brand science popularization activity.
The first lecture of the Galaxy Rostrum specially invited Shen Zhiqiang, head of the Shanghai Astronomical Observatory, the Chinese Academy of Sciences, as the keynote speaker, who introduced the research process and the birth of the Milky Way's central black hole with the theme of "See Black Hole Photos Again: the Birth of the First Photo of the Milky Way's Central Black Hole". Liu Jian, the deputy curator of the Shanghai Science and Technology Museum, presented Shen Zhiqiang with an honorary certificate.

Shen Zhiqiang shared with the public the Milky Way's central black hole, which was the "poem and dream" in his mind, describing in detail how researchers gradually approached the black hole and finally unveiled its mystery. He said that this is a long-awaited portrait of the black hole because it provides the most direct visual evidence to prove the real existence of a black hole. From the image, although the annular shadows at the edges of the two supermassive black holes in the center of the Milky Way galaxy and M87 were similar, they were different from each other. Furthermore, they established the consistency of the general theory of relativity in the case that the masses of black holes differ by three orders of magnitude.

During the on-site interview, the scientists and the host discussed the significance of this research in depth, forecasting the future research direction and progress through online questioning. The first issue of the "Galaxy Rostrum" was launched by online live broadcast, with more than 70,000 online viewers.

As one of the science popularization brand activities of Shanghai Astronomy Museum, the Galaxy Rostrum will invite first-class scientists at home and abroad to give science popularization lectures with more humane sentiments, philosophical thoughts, and aesthetic consciousness to the public in the subsequent stage, intending to explain the value and significance of science to people who are curious about the universe.