Exploring the Best Place for Observing Birds in Shanghai in Cloud Streaming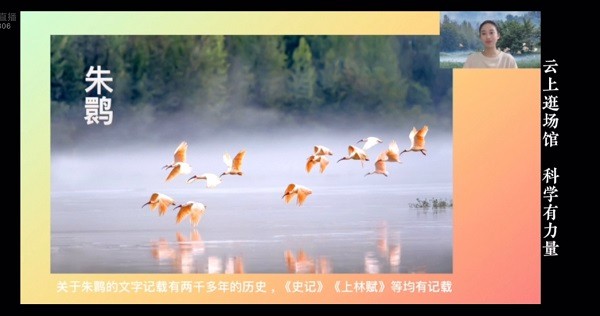 On April 23, 2022, the second session of the "Science Popularization at Home and Mobile Module Hospitals" lecture organized by Shanghai Science and Technology Museum and Xinmin Evening News was on air on many platforms. This session was hosted by Ge Zhiyuan, science popularization expert at Shanghai Natural History Museum and doctor of ornithology, and Wang Yawen, commentator of Shanghai Natural History Museum, who guided the viewers to explore the little-known best place for observing birds in Shanghai. At many mobile cabin hospitals, little patients were organized by the Dabai to enjoy the beautiful scenery on the internet.
Wang Yawen tirelessly talked about the bird specimens collected at Shanghai Natural History Museum, the best place to observe birds in Shanghai. Over 20,000 viewers "liked" the bird science popularization contents of Shanghai. As Dr. Ge Zhiyuan put it, bird observation is a good science popularization activity. It's an important way for citizens to participate in bird protection and helps scientists monitor and collect data of bird migration. Bird observation helps to find out hidden dangers for birds in cities, and ease people's anxiety. Viewers asked by bullet chatting that whether there is a good place for observing birds in Shanghai. Dr. Ge Zhiyuan shared some destinations, such as the Nanhui Dongtan Wetlands, the Century Park and the new Yuehu Sculpture Park, and some tips for observing birds.